Murals
Murals
is a formal name that includes all the
Marsh Stogies
and other advertisements painted on the sides of old buildings as well as more artistic paintings. Photos (and location information) are needed of all!

1940 Bridgeport Post Office murals inside the building.


1986: Murals inside WesBanco Arena - 1986 September 20

19xx: Mosaic on wall of xx building on 14th(?) Street


19xx: Rogers Fireproof Hotel Sign


19xx: Marsh Stogies Sign, 1000 Main St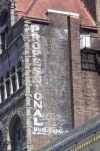 19xx: Professional Building Sign, 1300 Market St


19xx: Felber Biscott Co. Sign, 1600 Main St (Baer Bldg).


19xx: Electrical Contractors Supply Co. Only? painted sign for existing company; at 18th and Market streets, sign on back of building.


19xx: US flag tile mural, CC Bar, 24th & Market


19xx: D.S. Nesbitt Grocer sign, 747 Market St


---